Single Length Irons 
Wishon Sterling Single Length Irons  Now Available To Test Drive!
Here are some details on the demo Sterling irons that we have available.
We have two right-handed demo sets for you to try.  Your choice of either graphite or steel shafts.




You'll need to prearrange a demonstration time so we will have them fully prepared and ready for you.

All iron heads weigh 274 grams, about the weight of a standard 8 iron head.

Custom fitted Sterling irons come in a full right-handed set, (10 clubs available in total).  Irons are available from 4 iron through to Lob Wedge.  There's a RH 5 hybrid available for those who have difficulty hitting long irons.

Left handed Sterling irons are available from 5 iron to Sand Wedge.

We also have new traditional shaped Sterling SW & LW available starting April 2018.
Many people have become aware of the use of single length irons with Bryson DeChambeau's success in the last few years.  He plays single length irons that have extremely upright lies.  That's because they match his very upright swing plane.  He specifically points out that the single length concept is suitable for any golfer.  (Start at 2:46 in the attached You Tube Video).  The length and lie of the set needs to be custom fit to each individual golfer.  Then they will fit properly, regardless of a golfer's upright, flat, one-piece or 2 piece swing.
Matt Dobyns is now playing Single Length irons. For more information Click Here.
And here is a review by Mark Crossfield - Professional Golf Instructor.  Click Here.
Tom Wishon has kindly provided us with more information on single length irons.  Click here.
There was a recent article on the GolfWRX web site about the concept and development of the Wishon Single Length Sterling irons.  We view single length irons as a great innovation.  We hope that your interest will take you to Engineered Golf and give our demos a test drive.  There is good potential that playing single length irons can help all golfers create more consistency in their golf shots.  Come and test them and you'll see!
There are 11 heads shown in the photo below; the 3 demo heads and 8 others.  We can build a set of Sterling irons from 4 - LW for some clients, some other sets might consist of 7 or  8 sterling iron heads for a full set of clubs ranging anywhere from 19 to 58 degrees.  WHY the difference in the possible number of Sterling heads in your set including wedges? Ask us in the Comments Section of our Contact Page, and we'll let you know!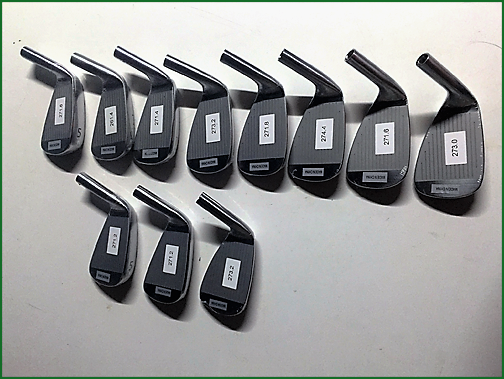 Pinhawk Single Length Irons
Pinhawk Single Length irons have now arrived at Engineered Golf.  They too will be available to try as a demo set in the 5, 7 & 9 iron configuration.  Contact Us to prearrange installation of different flex shafts.