Wishon & Bowden's Sterling single-length irons.
Sterling single-length irons are offered by Engineered Golf of  North Bay, Ontario.  We are a professional club fitter.  Sterling single-length irons are in high demand.  Come in and place your order now.

Golf requires consistency for any lasting success. But in a game with so much change between shots — wind, weather, slope, lie, etc. — should the golf clubs themselves introduce even more variables?
A normal set of irons begins with a sand wedge, measuring about 35.5 inches, and increases length incrementally up to a 4 iron, which measures about 38.5 inches. The problem with this conventional setup is that the golfer must adjust his stance, posture and swing plane for each club — about eight different swings and setups.
That's the issue Tom Wishon, a renowned club maker for more than 30 years, hopes to solve with his single-length irons, which have the same length and lie angle throughout the set. He believes that these constants will encourage golfers to have the same posture, spine angle, stance and swing plane from their sand wedge to their 5-iron.
"The benefit (of Sterling single-length clubs) is supposed to be that golfers achieve more swing tempo consistency, more swing motion repeatability, which should lead to a higher percentage of on-center hits, less variation in swing path and release, and more shot consistency," Wishon said.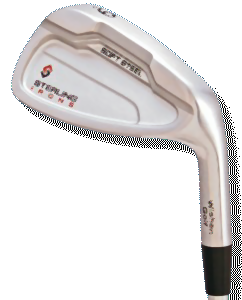 Wishon believes that the new irons duplicate the elements in each club that have a real bearing on swing feel, thus allowing golfers to use the same exact set up position and swing plane throughout the set.
If you're skeptical about the concept, amateur golf phenom Bryson Dechambeau adds some credibility. He won the 2015 NCAA Individual Championship and the 2015 U.S. Amateur Championship with a set of single-length Edel irons, introducing the idea to the masses.
Wishon, along with professional golfer and swing speed trainer Jaacob Bowden, began collaboratively making the Sterling single-length irons in 2013. And they're making the argument that the irons will simplify the game for all golfers, since they eliminate variables throughout the golf swing.
"With incremental length sets, the shaft weights are typically different in each club, the total weights are certainly different in each club, and the balance points are different in each club," Wishon said. "Most of the elements that have a bearing on swing feel are different from club to club."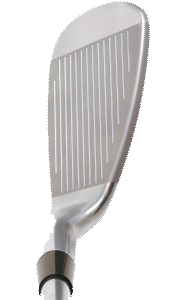 The concept of single-length irons, which dates back to the 1980s, works to eliminate those problems. The major concern with single-length irons, however, has always been that the higher-lofted irons tend to fly too far and high (compared to a standard-length set), while the low-lofted irons tend not to fly far enough, and too low. Bowden's other concerns from previous single-length iron makers included:
Distance-gap bunching

Golfers didn't like the "feeling" of high-lofted clubs with such long shaft lengths (5-to 7-iron length)

Not all iron sets on the market had conforming grooves

There were limited custom-fitting options for single-length irons
So Bowden visited Wishon in 2013 at his fitting studio in Colorado with an idea — shorter uniform-length clubs with hotter faces in the long irons.  "My initial wish list for working with Tom was for us to create a highly-customizable, cool-looking, USGA-conforming single length set of irons at 8-iron length that went the distances and trajectories that people expect for modern day golf clubs," Bowden said.
With the Sterling single-length irons, Wishon granted Bowden his wishes.
Sterling single-length irons are made to measure 36.5 inches, about the length of an 8-iron, opposed to previous single-length iron releases that varied between 5-7 iron lengths.
Why an inch shorter? Wishon and Bowden decided that most golfers hit their 8 irons more consistently than their 6 irons — especially since today's 6 irons have the loft of a 4 iron from the 1980s, according to Wishon. So to improve consistency in the low-lofted irons, they decided on 36.5 inches, knowing they'd be sacrificing 4-7 mph of ball speed, thus relying on Wishon's design expertise to make up the loss of distance in the low-lofted irons.
"That's why Jaacob came to me," Wishon said. "He was well aware of my experience in designing high-COR face hybrids and irons in my career, so he thought I could figure out a way to design the set so that distance would not be lost in the low-loft irons with the shorter, 36.5-inch single length."
To accomplish this, the 5, 6 and 7 irons are made with high-COR face designs, with progressive offset to move CG rearward for a higher trajectory. The iron bodies are cast from 8620 carbon steel, while their faces are made from HS300 variable thickness steel alloy plates that are welded to their faces. The irons also have CNC-milled grooves, and their lie angles can be bent +/- 4 degrees for maximum fitting freedom.
Sterling single-length irons are nickel-chrome plated to avoid rusting.
Golfers should know that while the lofts of the 5, 6 and 7 irons are lower than what they might be used to playing, the clubs will launch at similar heights because their high-COR faces generate higher launch angles from face flexion at impact. Their stronger lofts also ensure that golfers don't lose distance compared to their conventional sets. The 8-PW (45 degrees), GW (50 degrees), SW (54-58 degrees) have a solid-face, 8620-carbon-steel construction.
For golfers looking for more height from the long end of their set, a 23-degree 5-hybrid can be ordered instead of a 5 iron. It's designed to blend seamlessly with the rest of the irons, but offers a higher trajectory than its 5-iron equivalent, according to Bowden.
Sterling single-length irons specifications.
More on the irons in the video below.